Last Chance Helmets, Armor & Shields
Last chance to purchase helmets, armor & shields no longer in production.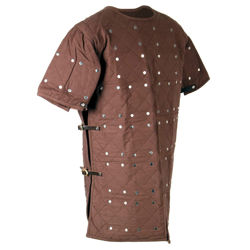 #300583
This Brigandine is crafted from free-breathing cotton with plates riveted in between its layers. The plates and rivets are crafted from 16 gauge steel with individual plates measuring 5'' x 3-/4''. The short sleeves have an open armpit design for mobility and ventilation. Adjustable leather straps with unique brass buckles secure the sides.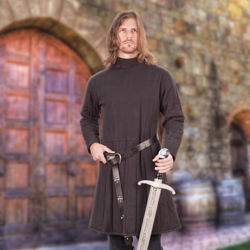 #101693
This Gambeson is made of a cotton blended fabric and is quartered with front, back and side slits below the waist for excellent maneuverability. Available in Black or dark brown.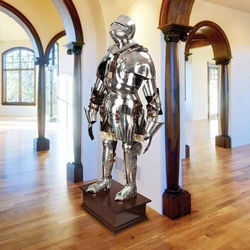 #300018
This suit of armor is hand forged of 18 gauge steel and comes with a decorative skirt. Features Leather straps. Includes wooden pedestal. Approximately 6-1/2 feet tall.
---
Top Customer Reviews
Review of: Brown Cotton Brigandine
I'd really consider this more of a "coat of plates" than a proper "brigandine" armor given the lack of overlapping plates. The gaps between plates, particularly over the breastbone, would make me consider this for protection in addition to a mail shirt or hauberk.
Reviewed by: Matthew

,
May 27, 2021
Review of: English Arming Gambeson
Does run small, XL won't fit over my 48" chest. Shame, looks nice, on the light side tho for protection use.
Reviewed by: Jeffery

,
April 09, 2021