Breastplates & Brigandines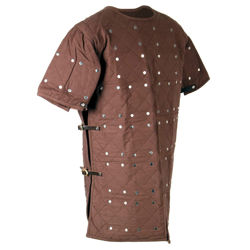 #300583
This Brigandine is crafted from free-breathing cotton with plates riveted in between its layers. The plates and rivets are crafted from 16 gauge steel with individual plates measuring 5'' x 3-/4''. The short sleeves have an open armpit design for mobility and ventilation. Adjustable leather straps with unique brass buckles secure the sides.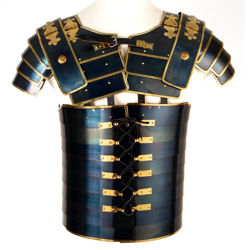 #300562
This fully functional and wearable breastplate has segments forged of blued 16 gauge steel that are attached to each other with leather bands for flexibility. The trim, latches, hinges, and rivets are brass. The pauldrons are hinged and attach to the lower armor with adjustable leather straps. Typically worn over a tunic, this is a replica of an elite version of the famous armor of the Roman Legionnaires.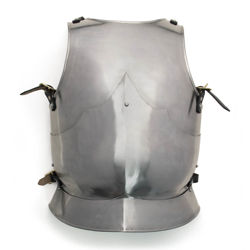 #300571
This polished, 18 gauge steel breastplate features a three-piece design that is securely riveted together. That top piece has a rounded neckline. The midsection features a tri-peaked upper edge. The bottom piece has a flared band at the bottom for greater mobility of the hips. Secures to the wearer with leather straps that cross the back and buckle at the edges.
---
Top Customer Reviews
Review of: Steel Breastplate
cheap price and not cheaply made fits perfectly i can even put it on by myself articulates great 100 out of 10 would recommend a million times over
Reviewed by: james

,
December 31, 2022
Review of: Brown Cotton Brigandine
I'd really consider this more of a "coat of plates" than a proper "brigandine" armor given the lack of overlapping plates. The gaps between plates, particularly over the breastbone, would make me consider this for protection in addition to a mail shirt or hauberk.
Reviewed by: Matthew

,
May 27, 2021