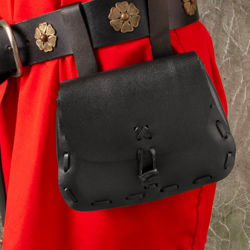 #201625
This leather pouch will be your perfect traveling companion on just about any journey. It can hold just about any valuables, from coins of the realm to your cell phone. Features a leather toggle closure for quick access. Black or Brown.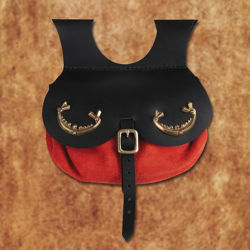 #201626
This gorgeous leather and suede medieval belt pouch will hold your possessions when attending an event or faire. Once the sturdy strap is unbuckled, the suede interior sports a leather drawstring for even more security. Two brass icons of a dark ages longship adorn the sturdy black leather flap.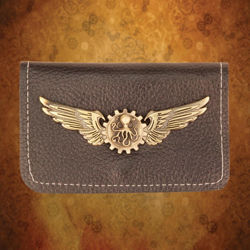 #803940
This bi-fold wallet is made of fine grain leather and features a metal set of wings with both an octopus and a movable gear. Has a heavy-duty snap.
No Scottish kilt is complete without a leather sporran and every medieval outfit needs a belt pouch for carrying your everyday accessories. Our leather pouches are perfect to wear at the Renaissance Faire or to Medieval re-enactments. You'll have a place to carry your keys, phone, and money.
---
Top Customer Reviews
Review of: Traveler's Leather Pouch
I bought two of these for my Longhunter kit. These are the best leather pouches out there. They are the largest & most economical anywhere. Best quality that I have found. They hold more than enough gear for whatever activity you choose to take them on. I might buy some more!
Reviewed by: Michael

,
June 20, 2020