Here are new products in the works from the smiths at Windlass Steelcrafts. They will be arriving soon, but you can order now and reserve one. You will be one of the first to own one of these battle-ready historical replicas.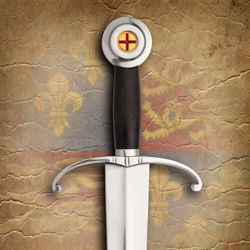 #501780
The Only Henry V Sword that Replicates the Gold Inlaid Pommel of the Original

This sword from Windlass Steelcrafts is a precise replica of the iconic sword of Henry V. Like the original, it's a relatively short weapon, designed for fast cutting and thrusting. The blade is slightly hollow ground and the edge is sharpened at the factory. It's beautifully balanced and feels lively in the hand. The pommel is hollow like the original and is appropriately gold plated in the recesses, and has red enamel crosses emblazoned on each side (we used enamel instead of paint for the sake of durability). An accurate, fully functional replica of a true battle sword once used by the king of England. A design with just enough flair for a sense of elegance, but no doubt a pragmatic, effective cutting weapon. Includes top-grain leather scabbard and belt.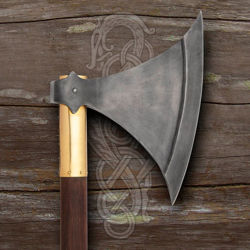 #601123
This large axe was designed solely for battle during the latter part of the Viking Age. Remenants were found in a grave in Norway in 2011, and Windlass Steelcrafts has reproduced it with a high carbon steel blade that's battle capable like the original.