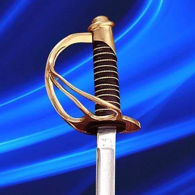 Southern and Northern forces were issued with a variety of swords depending on their fighting style; cavalrymen, infantry, artillerymen, marines and officers, all had distinct weapons - knives, swords and sabres. In course of the civil war, sword bayonets were developed - a 23 inch blade mounted on the end of a rifle or musket turned the slow-to-reload medium range weapon into an effective spear for close range work. Museum Replicas manufacters and distributes a great selection of these historic knives, sabres, swords and bayonets.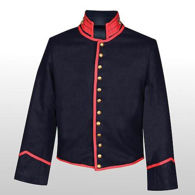 We host a select range of uniforms and clothing worn by Union and Confederate Soldiers during the Civil War including shirts, jackets, trousers and, accessories like shoulder straps and belt buckles, and more.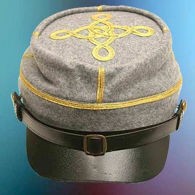 Authentic reproduction Kepis, Caps and Hats from the American Civil War Era at Museum Replicas. Available in blue for US and grey for CS.
The Civil War, beginning in 1861 and ending in 1865, was the bloodiest war in American history, More than 10,000 military actions took place with at least 618,000 Americans dying from battle or disease; more than the total losses from the American Revolution through the Vietnam War. Museum Replicas understands the importance of this time in our history and is here to meet your Civil War Re-enactment requirements.
We offer pants, shirts, jackets, vests, and caps from both the Confederate and the Union sides. Accessories and other products include belts, utensils, and mugs. These high-quality Civil War garments and collectibles are great for Civil War collectors, reenactors, and stage props.