Museum Replicas carries a full line of high quality steampunk clothing, jewelry, shoes and accessories for women. Spanning the lengthy Victorian era, our clothes are authentic and comfortable. Made with high quality fabrics, we pay attention to every detail, from the beautiful buttons to the hand-stitched trim. You will be sure to turn heads when wearing our authentic clothing!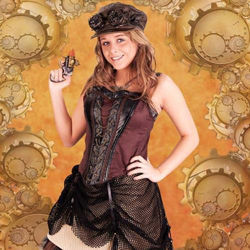 #101340
This Steampunk skirt is made of netting, cotton velvet, and black cotton net. Features hook & eye closure, artificial leather straps, hidden zipper, and elastic waistline.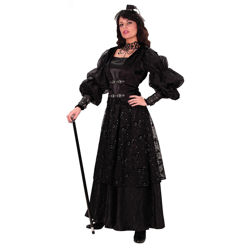 #101140
This polyester Steampunk gown has a pleated, floral-veiled skirt that comes with a faux sealskin corset with front straps and armbands, a mini top hat and a veil.