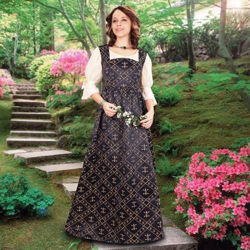 #100390
A Renaissance styled fleur-de-lis patterned overdress, this elegant poly-cotton dress comfortably fits with the help of a lace-up back and a hidden modesty panel.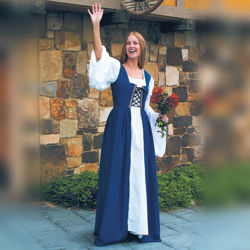 #100510
This versatile, 16th century styled ladies' overdress has a lace front with coordinating front trim and boning to reinforce the bodice.
Museum Replicas carries a wide variety of high-quality Renaissance clothing, costumes, and accessories. Made with high-quality fabrics, we pay attention to every detail, from the beautiful buttons to the hand-stitched trim. You will be sure to turn heads when wearing our authentic clothing!