Products tagged with 'womens jacket'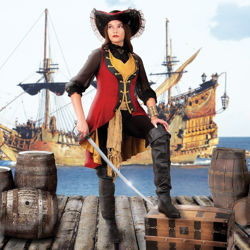 #101743
Made of rich red soft corduroy, this ladies sleeveless, lined jacket has a pleated duck-tail cut and can be worn with a shirt or bare-armed. A faux black leather collar flanks the coat and accents the shoulders, while gold metal buttons and trim give it a true pirate feel.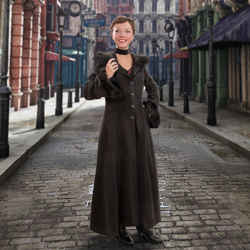 #101786
This is the perfect coat to wear while looking for the latest Penny Dreadful! This long fleece-lined ladies Victorian era coat offers a decorative braid down the front, which surrounds the five filigree silver and black inset metal buttons. It has two working pockets on either side, while black faux fur lines both the bell-shaped cuffs and generous hood.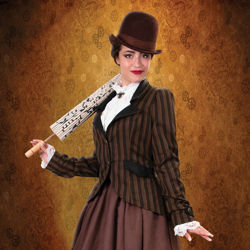 #101778
This ladies steampunk jacket is brown, black and orange pinstripe with faux leather lapels, pocket flats, collar and cuffs. Stunning pleats detail the sides along with a kick pleat in rear, which is bordered by twelve antique gold buttons.