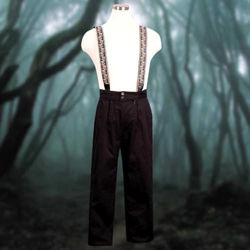 #101524
These black pants are 100% cotton. They feature detailed floral embroidery design on the suspenders.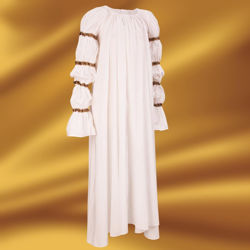 #101002
The sleeves of this chemise have decorative bands with drawstrings, allowing you to adjust the sleeves for a pillowed effect. Add an overdress to create looks from many time periods such as medieval maiden, Renaissance lady, the French revolution and colonial Salem. Or add a corset for a completely different look.
This section is dedicated to all the fantastic items we find in our warehouse while shifting inventory around, cleaning, or doing inventory. Keep in mind though that the items listed are offered in 'as-is' condition. So, there may be some minor dents/scratches, dirt, rust, on them due to the long-term storage, but one thing is for sure, they're rare, and nothing major will affect their performance once they're finished. Needless to say, the items are available in very limited quantities, so you better act fast when you spot something you like here! Don't forget to come back often to check on more finds.