A true testimony to a knight was shown in his tunic, brigandine or gambeson. Used for both markings of the field of battle, some also gave protection against an enemy's strikes. Faire-goers will love our selection of historical tunics and surcoats. From simple cotton or wool to rich velvets and brocades, our line of clothing is sure to please every Viking and Knight.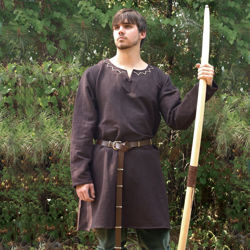 #100988
This medieval under-tunic is made of 100% cotton and features eyelets with leather lace at the collar. Looks great with the Huntingdon green over tunic.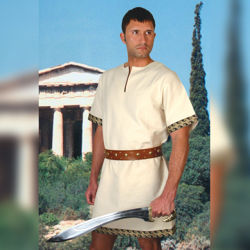 #100876
This cotton weave tunic is accented with a Greek trim at the sleeves and bottom which emulates the waves of the Aegean. Belt not included.