#802422
This replica features a stained hardwood stock and metal working parts with a black finish. A detailed piece. Overall 21-1/2".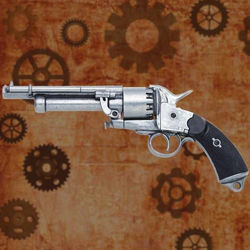 #802236
This non-firing revolver features working single action loading lever and simulated checkered ebony wood grips. Overall 14-1/2". Weighs 3.6 lbs.
#600180
This cane features a full-length rapier blade in high carbon steel. The grip and pommel head are solid aluminum. Non-slip rubber tip. Overall 36 inches.
Whether you want safe LARP weapons or real steel swords, MuseumReplicas.com has a large variety of steampunk weapons for your unique persona.