Products tagged with 'steampunk boots'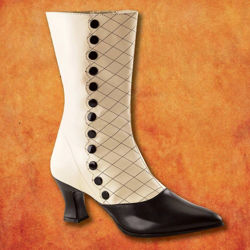 #101651
Whether you are Jane looking for Tarzan or a Steampunk huntress out for Venusian blood, these boots will get the job done! Smart faux leather design with a padded cream colored upper section. The button row detail on the sides gives these boots a true Victorian feel. The chunky heel allows for maximum comfort, while the side zipper allows for an easy on-and-off fit.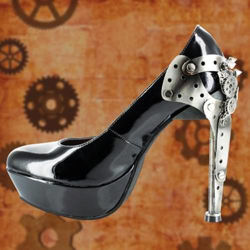 #101413
This steampunk shiny black patent leather platform pump has a custom ABS steampunk machine high heel, with circular butterfly gears and spikes. A real show-stopper suitable for any event. Size 9.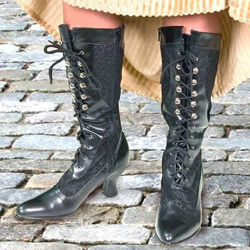 #101073
These tall, form-fitting boots are great for almost any outfit. The black synthetic leather is soft and supple, while the black lace inserts gives an heir of elegance. Lace-up fronts with a zippered side. 13-1/2" tall with a 2-1/2" heel. Black, sizes 6-10.