Both re-enactor and faire-goer alike will find our selection of shirts to be some of the most authentic on the market. From simple cotton to rich velvets, our line of period shirts is sure to please every Viking, Knight, and Musketeer. We also have styles for perfect for men's Steampunk and Victorian attire.
#101059
This cotton shirt features an embroidered cross pattern on the collar with a hook & eye closure. Available in white with black crosses or black with red crosses.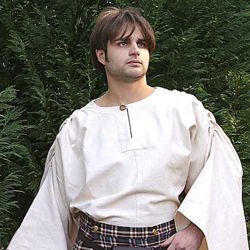 #100880
This shirt is made of 100% natural cotton weave and has an antique button collar.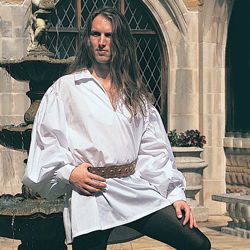 #100196
This poly-cotton shirt has billowy sleeves and an open neck. Suitable for a wide variety of period outfits and looks especially flattering when worn under a vest or jerkin.