Products tagged with 'royal sword'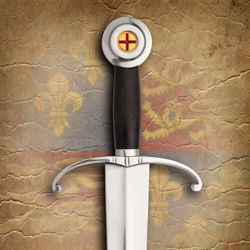 #501780
The Only Henry V Sword that Replicates the Gold Inlaid Pommel of the Original

This sword from Windlass Steelcrafts is a precise replica of the iconic sword of Henry V. Like the original, it's a relatively short weapon, designed for fast cutting and thrusting. The blade is slightly hollow ground and the edge is sharpened at the factory. It's beautifully balanced and feels lively in the hand. The pommel is hollow like the original and is appropriately gold plated in the recesses, and has red enamel crosses emblazoned on each side (we used enamel instead of paint for the sake of durability). An accurate, fully functional replica of a true battle sword once used by the king of England. A design with just enough flair for a sense of elegance, but no doubt a pragmatic, effective cutting weapon. Includes top-grain leather scabbard and belt.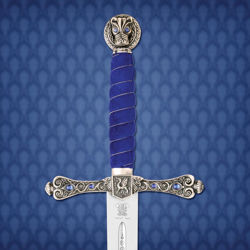 #501458
This sword is made of AISI 440 stainless steel blade. Features blue suede wrapped grip, cast metal cross guard, and pommel with silver plated finish. Overall length of 46-1/2 inches.