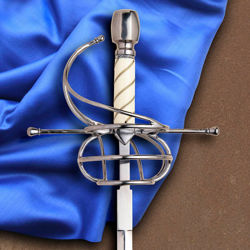 #500862
This rapier has a blade made of 1065 high carbon steel. Features three ringed swept hilt and wire wrapped bone grip. Includes scabbard. Overall length of 46 inches.
Renaissance swords were characterized by a compound hilt, narrow blade, and strong cross section. Their build made these swords ideal for the "cut and thrust" style and they were typically used by foot soldiers in the military. While it may be that Renaissance swords were generally lighter than their medieval counterparts, some big weapons were around too. For instance, the monstrous two-handed sword (e.g., the German Zweihander and the English Slaughter Sword) was historically a Renaissance weapon. Another popular sword was the rapier which featured a long and narrow blade and a hilt with a heavy cross-guard. The rapier was not used much in the military but gained a following among the civilians. They were later replaced by an even lighter weapon – the small-sword.
Museum Replicas offers an extensive line of authentic Renaissance swords that are made like the originals. Weapons in our selection are copied from museums and private collections around the world. They are durable and made with great detail by expert artisans. Further, we carry a range of Renaissance rapiers inspired by French, German and Italian styles of the period. For those seeking something different, we have basket hilt and bastard swords classy enough to make any sword aficionado drool. Check out the range and pick one for your sword collection or the next reenactment. It will make you proud.