Products tagged with 'renaissance dagger'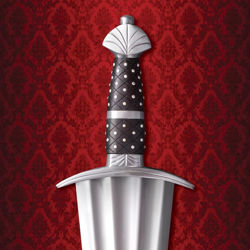 #404202
This Renaissance period short sword (or long dagger) has a sharpened, double-edged 1055 high carbon blade. Highly engraved guard and pommel, hand-carved rosewood grip. Leather scabbard with engraved steel throat and chape included. Overall 20-1/2 inches.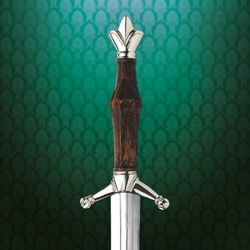 #403599
This royal dagger features a long 1055 high carbon steel, full tang blade with a heavy spine for strength. Contoured, hardwood grip and fishtail type pommel. Includes brown leather sheath with metal throat and tip. Overall 19-1/2 inches. Comes factory sharp.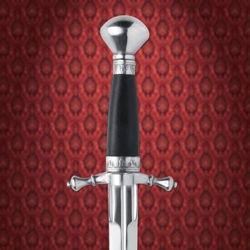 #403721
This ring dagger with an armor-piercing, 1055 high carbon steel blade sports filigree work on the handle and scabbard. Large pommel and soft leather wrapped grip. Overall 16-1/2 inches.