Pirate swords and cutlasses define the bold buccaneer more than any other weapon. But, what type of blades did pirates use? One was the straight-bladed small sword, which was the perfect thrusting weapon and required some skill to wield. The light spadroon was another that was good for thrust attacks and was also a useful slashing blade. Perhaps the most famous of all pirate weapons is the pirate cutlass. This single-edged, slightly curved or straight sword could hack through ropes, flesh, and bone. In addition, the rapier may have seen action during the initial days of the "Golden Age of Piracy." Pirate knives included the dagger, which came in handy when fighting in tight spaces or faced with tasks such as cutting sail, rope, or food. Finally, there was the dirk, a smaller version of the dagger, which could also be used as a throwing weapon.
Museum Replicas' excellent range of pirate swords, cutlasses, and knives are perfect for the re-enactor and the collector. Made with exquisite detail and to last, these weapons would not be out of place in the hazardous seas of the 17th-century. So, whether you are a Captain, First Mate, or Sailing Master, fret not. Our swashbuckling collection offers excellent weapons that even Jack Sparrow would secretly envy. Have doubts about our claim? Check them out now or walk the plank.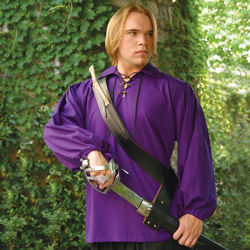 #200634
This black baldric fits most types of swords. Knives are tempered high carbon steel. Overall length of 10-3/4 inches.