Products tagged with 'personalize'
#501472
This replica sword has a full tang, 1065 steel blade. Pommel, guard, grip band and inserts are copper plated. Leather scabbard with baldric included. Overall 37 inches. Comes factory sharp.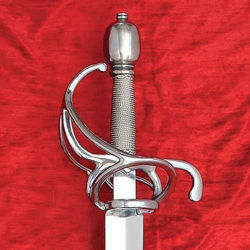 #501144
This is a perfect example of a German military cut-and-thrust swept hilt carried by the Munich Town Guard. The slightly shorter blade and stout hilt were perfect for breaking up a street fight or tavern brawl, as the town guard was often employed to do. Our replica has a sharp, well-tempered 1065 high carbon steel blade, steel pommel and guard, and wire-wrapped wood grip.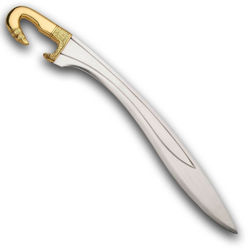 #500062
This Celt-Iberian Falcata sword features a blade made from 1065 high carbon steel. The handle is solid brass. Includes scabbard. Overall length of 25-1/4 inches. Comes factory sharp.