Necklaces, Chokers & Pendants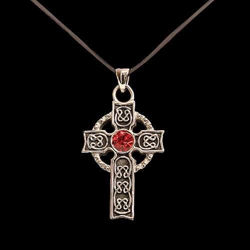 #201079
This pendant has a lovely Celtic cross which features a two-tone silver finish and a faceted faux ruby in the center. Adjustable neck thong included. Measures 1-1/2" x 1".
---
Top Customer Reviews
Review of: Wayfinder Viking Pendant
I am waiting for the right occasion to wear this talisman. I have a belt buckle that matches it but it requires a special belt, which this does not. When I honor my ancestry It will be a part of the costume.
Reviewed by: H.

,
July 01, 2021
Review of: Kraken Pendant
Honestly, I was a little apprehensive about ordering this. But as soon as it arrived I couldn't wait to put it on, and I haven't really taken it off since!
It's much smaller than I was expecting it to be, which is perfect. It's just the right size to be visible and easily noticed with a low V-neck pirate shirt.
All of the detail is wonderful and the craftsmanship is superb. It really compliments the skull choker I usually wear.
Reviewed by: Stephen

,
October 23, 2020