#100530
This black denim 100% cotton long jacket is split at the sides and back for ease of movement. The wide collar can be worn up or down.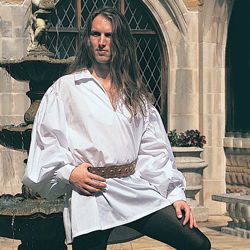 #100196
This poly-cotton shirt has billowy sleeves and an open neck. Suitable for a wide variety of period outfits and looks especially flattering when worn under a vest or jerkin.
MuseumReplicas.com carries a full line of high-quality Renaissance clothing, shoes and accessories for men. Our authentic shirts, tunics, and other costume accessories are affordable and comfortable - perfect for re-enactors and faire goers!