Is there any holiday where you can dress up like a crusader and swing a sword around or dress like your favorite fictional character? That's right, Halloween! It might be the best thing that's ever happened to men across the world when you can bring out the creative and fun side of your personality, so you'd better make the best of it in one of our men's Halloween costumes. Since the witching hour is almost at hand, you don't want to be caught empty-handed without one of our unique Halloween costumes for men. Whether you're aiming to be a fierce warrior, a swashbuckling pirate, a Steampunk gentleman or a Roman gladiator, we can make it happen with our men Halloween costumes. Pick your battles and suit up with a Knight costume, or dive deep into the fantasy world to fight the evil (or dress like one). You may also want to showcase your humble accomplishment with a monk's robe that you most likely earned through religious, magical or other secretive means! Now that you have decided on the costume, it's time to choose the right accessories! Don't worry, we have that covered too! Our selection of hats, crown, masks, belts and other period accessories will surely help you get the look you want!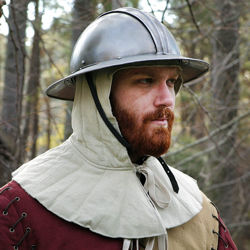 #200628
This coif is made of heavy cotton fabric with double tie front. Hand wash, hang dry recommended.
#200376
These 15'' long-cuff leather gauntlets has fingers, palm, and hand made of soft, pliable leather. Great to use for Sword fighting.