Make Halloween count this year. Our Halloween Sale is the perfect time to get a new costume, or add to an existing one! Use code TREAT now through October 25th and get an additional 15% off everything on our clothing sections. Cannot be combined with any other offer.
Whether you are Robin Hood or King Richard the Lionheart, men have been distinguished throughout history by the cap, hat or crown they wore. We, at Museum Replicas, have one of the widest selections of historical period headwear on the web.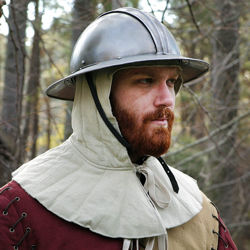 #200628
This coif is made of heavy cotton fabric with double tie front. Hand wash, hang dry recommended.