Shirts, Tunics & Gambesons
A true testimony to a knight was shown in his tunic, brigandine or gambeson. Used for both markings of the field of battle, some also gave protection against an enemy's strikes. MuseumReplicas.com offers an authentic line of period tunics with ensure your status on the battlefield.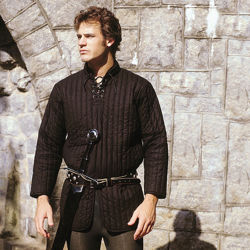 #100278
This quilted gambeson from the early Middle Ages is made of 100% cotton. Available in Black. Hand wash only. Perfect for Medieval and Renaissance Fairs.