Products tagged with 'medieval dress'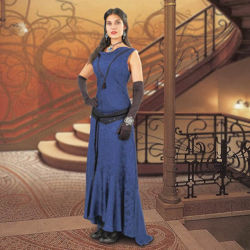 #101631
A form-fitting gown with a small train, this is designed in blue-on-blue floral rayon with a black, V-shaped design in front, a low-cut back, and a velveteen belt in tandem with a black drop-point waist.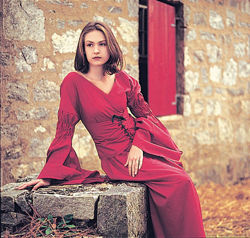 #100056
This beautiful medieval dress is perfect for the challenges that peasant and working-class women of the 12th and 13th centuries would have faced. The durable fabric has elastic banded sleeves with a flared bottom. A matching black-cored girdle allows for an accentuated profile.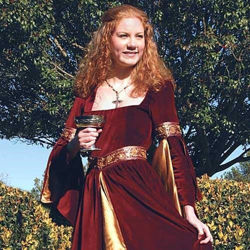 #100904
An ode to "the only English queen never to set foot in the country", this rich burgundy cotton velvet encapsulates medieval elegance in its hand-sewn bead trims for the sleeves and the waistline, and the adjoining golden dressing.