Products tagged with 'mary read costume'
During the golden age of pirates, not all of the plundering pirates who set sail were men. Mary Read, one of the most infamous female pirates in history, is the perfect example. She disguised herself as a man the majority of her life, in order to ride the high seas. She and Anne Bonny were pirates under Captain Jack Rackham, also known as Calico Jack. Most of the crew were unaware that there were women aboard and that explains her attire.
You'll look just like the one of these famous plundering women in historically accurate pirate costume pieces.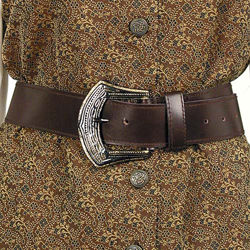 #201014
This elegant brown leather belt is ideal for both the man and lady pirate. Approximately 48 inches in length.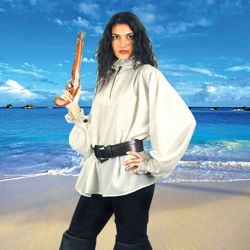 #101020
This white, 100% polyester shirt has a single button tall collar and lace cuffs. Perfect for a woman's pirate look, this versatile shirt can also be worn with period Victorian and Steampunk costumes .
#101018
Perfect as a stand-alone garment or with the Mary Read coat, this lightweight, golden brown vest is designed with a V-neck collar and an intricate brocade pattern.