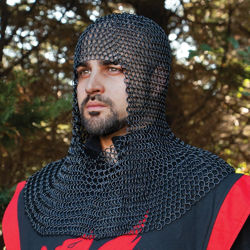 #300076
This mail armor coif is expertly crafted from butted armor. Blackened for moisture resistance. Weighs 5 lbs/8oz .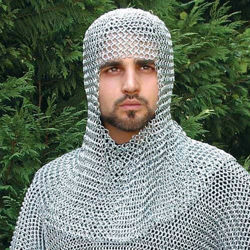 #300188
This mail armor coif exhibits 16 gauge links in the "international" (four links through a fifth) pattern. Outer link diameter 7/16 inch and inner link diameter about 3/8 inch. Weighs 5lbs/8oz.
One of the earliest uses of metal protection was chain mail armor. The use of armor and mail continued through the Renaissance until the presence of gunpowder increased in the 16th century.