Products tagged with 'leather scabbard'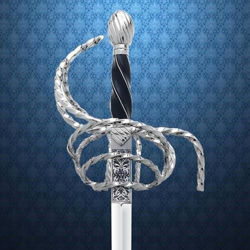 #501409
This 17th-century dueling rapier has a hand forged, steel blade with a flattened oval cross-section. A heavily carved horn grip mimics the twisted metal of the hilt and has a single steel accent wire that provides an excellent grip while dueling. Includes leather scabbard. Overall 44-1/4 inches.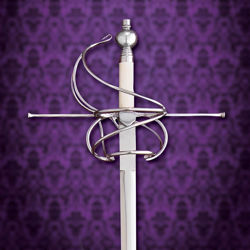 #500094
This rapier sword is hand-forged and has a high carbon steel blade with a diamond cross section. All-steel guard and pommel are accented with a real bleached, polished bone grip. Overall 43-3/4 inches.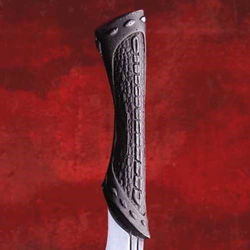 #401472
This fantasy fighting knife has a blackened blade, cast metal hilt and, metal and leather scabbard. Overall 19-1/2 inches. Comes factory sharp.