Products tagged with 'iron cutlery'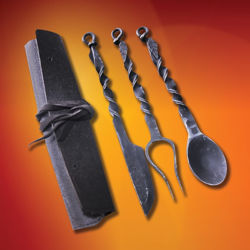 #805171
This hand-forged cutlery set is constructed of high-carbon steel which has been given an antiqued aged finish. Each piece has a traditional forged blacksmith's twist and has been decorated with a small leaf at its base. Comes with leather belt pouch for easy transport.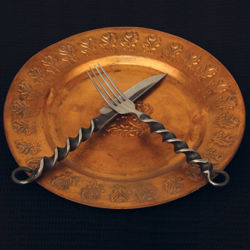 #804340
This knife and fork set are hand-forged with the traditional blacksmith's twist. Ideal for Viking and medieval settings.
#800438
This feasting utensil set fits in a tie-fold, open belt leather pouch with a 3-1/2" belt loop. The handles of each piece feature the traditional blacksmith's twist. Each piece is approximately 8" long overall.