The ancient Greeks wore helmets of thick leather and bronze to protect their heads from swords and arrows. Over time helmets evolved to protect the face and neck, sometimes covering the entire head with only eye slits for visibility. By 1400 this sophisticated armor featured pivots and hinges for greater mobility and protection.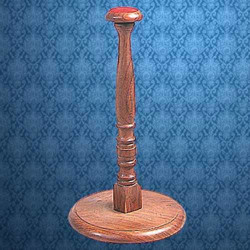 #800040
This hardwood helmet stand is stained and features a sturdy round, beveled base. Accommodates helmets of most sizes.18-1/4" tall. Weighs 2 lbs/10 oz.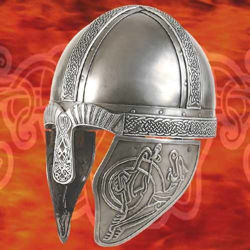 #300386
This helmet is made of 18 gauge steel with an antiqued finish. Features deeply embossed detail on the crown & nose guard and raised traditional Celtic Dog designs on the hinged cheek plates. Adjustable leather liner with chin strap.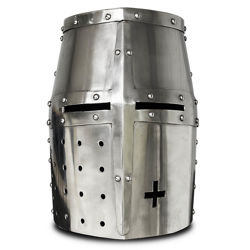 #300418
This classic helmet is one of the most popular versions depicted and worn during medieval times. Made from 18 gauge steel with narrow eye slits for maximum protection.