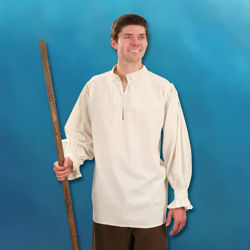 #101708
This hand-stitched shirt is made from 100% hand-loomed materials and sports a mandarin collar with mother of pearl buttons at neck and wrists.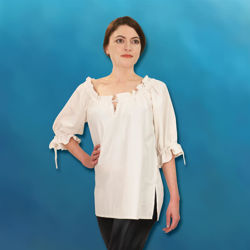 #101707
Hand-made from 100% natural cotton by the master tailors and seamstresses of rural India, this blouse features drawstrings at the neck and elbow-length sleeves that are side-slit for comfort.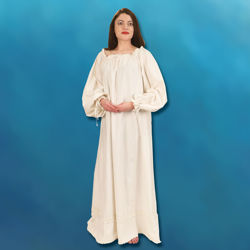 #101706
Faithful to Middle Ages and Renaissance, this 58" hand-stitched chemise from the master tailors and seamstresses of rural India is made of 100% hand-loomed cotton, and consists of drawstring neck and wrists, elaborated with crocheted cotton trims.
If you're looking to up your re-enactment game or to take your costume wardrobe to the level of realism, then these hand stitched garments are for you! All of the fabrics are 100% hand loomed materials, which are sewn by hand by our master tailors and seamstresses. These pieces are impeccable in their design and manufacturing and will add a level of authenticity to your wardrobe none could doubt. Now get 10% OFF on all hand-stitched costumes. Use Code: HANDMADE10.Valid only for in-stock items.
---
Top Customer Reviews
Review of: Hand-Woven, Hand-Stitched Men's Manor Shirt
I'm in a long-term project of upgrading my Ren Faire outfit, and this shirt was exactly what I wanted: something cool enough for hot California weather, made of handmade natural material and hand sewn. My biggest concern was sizing, as there were no reviews yet. So I made my best guess at a size Large and it fits great. Loose, but not like a tent! (I'm 5'11" 210lb.) I'm very happy with this purchase.
Reviewed by: David

,
November 12, 2019
Review of: Hand-Woven, Hand-Stitched Chemise
this is the best chemise i have ever had, I will tell you I loved it! I wore it as a night gown, I wore it under skirts, I wore it to death. I bought it 13 yrs ago for 40 $ and it lasted 5 yrs, I did wear it a lot! I went back to buy another and the price went up to 80ish so I declined. So today I thought now 80$ , it was worth it. I just came one to buy it again. yikes.I must admit it is a great chemise, but! from 40ish to 144 in 13 yrs?
Reviewed by: M

,
May 22, 2018