Products tagged with 'hand forged'
All weapons in this section are expertly hand forged by the master craftsmen at Windlass Steelcrafts and other parts of the world. Each sword, mace, rapier, hammer, and axe are made using the traditional techniques, giving them an authentic look and feel, exactly like the originals.
#500020
This Oakeshott Type X Medieval Sword has a long and wide fuller, long guard and wheel pommel for balance. Includes scabbard. Overall 39-1/2 inches. Comes factory sharp.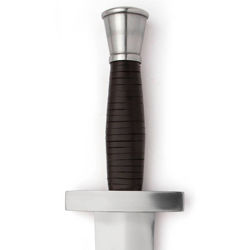 #500734
This Greek Hoplite sword has a leaf shaped, high carbon steel blade. Steel guard and pommel with leather covered wood grip. Includes leather covered wood scabbard. Comes factory sharp. Overall 28-1/2".