Products tagged with 'hand forged'
All weapons in this section are expertly hand forged by the master craftsmen at Windlass Steelcrafts and other parts of the world. Each sword, mace, rapier, hammer, and axe are made using the traditional techniques, giving them an authentic look and feel, exactly like the originals.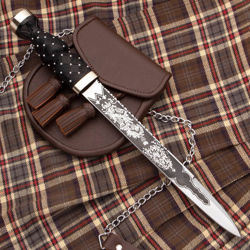 #400806
This dirk has a sharp 1055 high carbon steel blade with a 5" false edge, etchings of traditional Scottish foliage & thistle motifs on both sides, and a knurled pattern on the backside. Carved black wooden handle with nickel silver tacks. Leather-covered wooden sheath with metal throat and tip. Overall length 17-1/2 inches.