You need fantasy weapons if you are going to war in a fantasy realm. Fists and conventional weapons can only do so much against inhumanly strong opponents who sometimes call upon magic to make things just a little bit harder. The burgeoning growth of the genre in books, movies, and TV has ensured that there is an array of weapons available of different shapes and sizes. For instance, check out Museum Replicas' wonderful range of fantasy weapons. We have everything, from fantasy axes and hammers to fantasy knives and daggers.
The items in our collection may make you feel like you have superpowers, as fantasy weapons are meant to do. If you need something stealthy to fight off gate guards, try a mythical dagger perhaps? We have those too. If you are planning on ruling Asgard and are looking for a worthy weapon, we offer you Thor's hammer (Two of them!). For those interested in something a little more earthly and barbaric, check out the licensed replica of the Thulsa Doom dagger from the 1982 movie Conan the Barbarian. Another fantastic product is the Death Dealer Axe from Frank Frazetta Collector Edition line. These are just some of the many amazing weapons we carry in our selection. There is so much more. Check them out for yourself, today!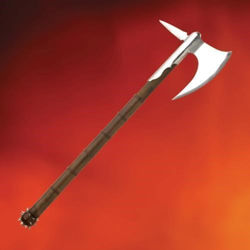 #600896
This fantasy Axe has a 1085 hand forged steel head, spike and socket. Genuine leather wrapped solid wood grip. Features steel spikes on a 360 degree mace pommel. Overall 31-1/2 inches.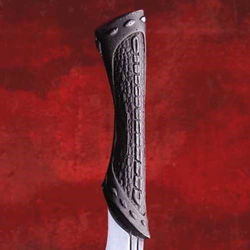 #401472
This fantasy fighting knife has a blackened blade, cast metal hilt and, metal and leather scabbard. Overall 19-1/2 inches. Comes factory sharp.