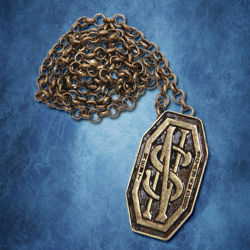 #201603
This is the personal pendant of the wizarding Magizoologist Newt Scamander from "Fantastic Beasts and Where to Find Them". Includes a removable 20" chain so it can be worn as a necklace.
In J.K. Rowling's Harry Potter series, Harry had a textbook called Fantastic Beasts and Where to Find Them, written by wizard and magizoologist Newt Scamander.

This book detailed Newt's journeys as he documented 85 magical species found around the world. The 2016 movie Fantastic Beasts and Where to Find Them is set in 1920's New York when Newt Scamander arrives with a briefcase full of magical creatures. After misplacing the briefcase, several creatures escape.

The adventures continued in 2018 with Fantastic Beasts: The Crimes of Grindelwald when Newt joined his former teacher Albus Dumbledore to prevent evil dark wizard Gellert Grindelwald's plot to rule over all non magical beings. Find clothing and accessories at Museum Replicas inspired by these characters from the wizarding world of Harry Potter.