Products tagged with 'european swords'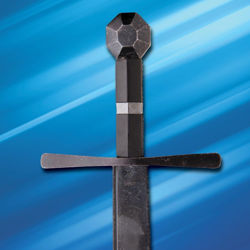 #501508
The Hattin offers a sharp front-loaded blade whose center of percussion is capable of tremendous cleaving blows and chopping strikes. Yet, its center of gravity is well-balanced enough for a quick center-of rotation that gives its curved point impressive play. It is a serious cutting blade not for the weak-of-heart or weak-of-arm. Whether noble knight or common man at arms, it's a prime example of this lesser-known and under-appreciated European sword form.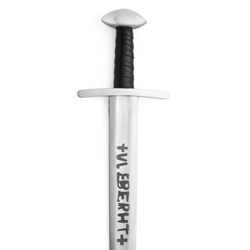 #500864
One of the most significant medieval swords, our beautifully balanced replica has a high carbon steel blade that has been etched on both sides. The cross guard is steel and the with a brazil nut pommel. The grip is wood wrapped with leather. Scabbard included. Overall 35-3/4 inches. Comes factory sharp.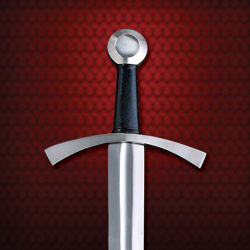 #500020
This Oakeshott Type X Medieval Sword has a long and wide fuller, long guard and wheel pommel for balance. Includes scabbard. Overall 39-1/2 inches. Comes factory sharp.