Products tagged with 'european swords'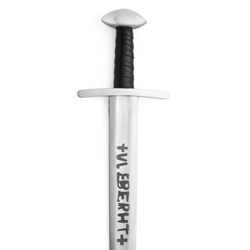 #500864
One of the most significant medieval swords, our beautifully balanced replica has a high carbon steel blade that has been etched on both sides. The cross guard is steel and the with a brazil nut pommel. The grip is wood wrapped with leather. Scabbard included. Overall 35-3/4 inches. Comes factory sharp.
#401022
This seax replica has an etched blade that is flat ground, and can be sharpened. Brass lobed pommel and guard. Secure wood grip studded with brass tacks. Riveted Leather sheath with two thong slots. Overall length 19 inches.
#500020
This Oakeshott Type X Medieval Sword has a long and wide fuller, long guard and wheel pommel for balance. Includes scabbard. Overall 39-1/2 inches. Comes factory sharp.