Products tagged with 'cross pendant'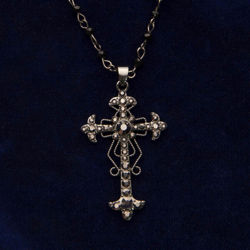 #201576
Lavish jewel-encrusted crosses have been worn on necklaces for centuries, but here's a steely version that's suitable for goth or other achromatic dress. The cross is crafted of dark gray metal festooned with simulated grey onyx that's faceted to create some serious shades of gray. The necklace is segmented with black, faceted beads. Looks good with black leather, too.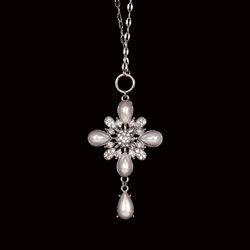 #201639
This petite cross is comprised of four teardrop faux pearls with a full teardrop at the bottom, all complimented with five sparkling faceted faux diamonds. Available in either silver or gold finish with a matching 24" adjustable chain.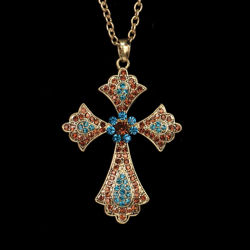 #201590
The Renaissance introduced some of the most lavish jewelry in history; this cross pendant is no exception. Over 60 faux aquamarine, sapphire, and topaz colored crystals adorn this magnificent cross, which measures 2-1/2" x 2". A 34" adjustable gold metal chain with a clasp is included.