Chains of Office & Livery Collars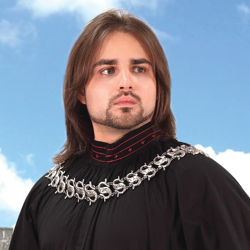 #200956
These stunning chains of office, also known as livery collars, were first introduced in the 14th century and will accentuate just about any stately medieval or Renaissance ensemble.
---
Top Customer Reviews
Review of: Knightly Chain
This knightly chain is fantastic. It's solid, heavy, and well done. I've seen other sites with chains costing twice as much that wasn't as well made. It's a great addition to my harness
Reviewed by: Bryan

,
August 09, 2021
Review of: Knightly Chain
This is a great item, and it has a decent weight to it. The finish is excellent and it fits well with any noble persona.
Reviewed by: Barry

,
January 24, 2020