Products tagged with 'cape'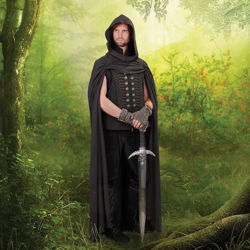 #101759
Suitable for both men and women, this long, black hooded cloak has an open front with gathered, pleated shoulders, allowing for a sword draw at a moment's notice. One size, this is made of a lightweight stretch poly fabric.
#101791
Many Renaissance royals donned this type of cloak, which was always worn open. Made of a shimmering faux red velvet, this sleeveless coat is lined in a rich, dark gold satin and has a faux fur collar with fur edging down the front.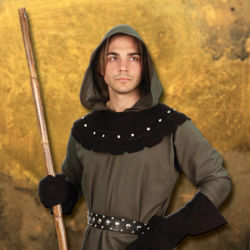 #101640
This suede mantle comes in black, green, or brown with silver-finished studs. It can be worn over a tunic or shirt for a medieval look or alone for a fantasy look! Green on sale - only $39.95!