We have one of the biggest selections of Roman, Viking, and Medieval camping re-enactment equipment on the web. The forged iron is authentic, made with the same materials and in the same way the original cooking utensils, cutlery, eating utensils, pots, pans, kettles, and more were made.
So get geared up for outdoor festivities! Renaissance Faires, re-enactments, cos-play, period weddings, parties, and even for camping today. Rugged and well made, and just as important, at the right price.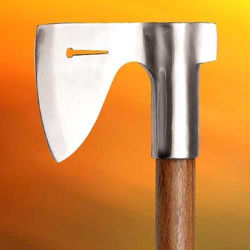 #600798
This European pattern axe consists of a tempered steel head with a flat poll on a hardwood hickory shaft. Highly functional as a weapon, worker. Overall length 20 inches.
#800438
This feasting utensil set fits in a tie-fold, open belt leather pouch with a 3-1/2" belt loop. The handles of each piece feature the traditional blacksmith's twist. Each piece is approximately 8" long overall.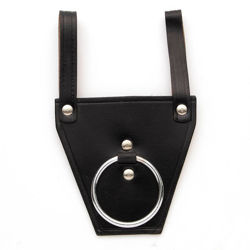 #200028
This impressive frog is made of durable, full grain leather. Features nickel plated, metal studs.
---
Top Customer Reviews
Review of: Loki's Horn Drinking Set
I love my drinking horn set! It's perfect whether you're doing a ritual honoring Loki, or just enjoying some mead with a movie and munchies. And the customer service was excellent! I had a minor problem, and they immediately fixed it with excellent understanding and patience!
Reviewed by: Samantha

,
July 01, 2021
Review of: Hand Forged Iron Roman Camping Stove
This is a solid, well-built grill. It is much heavier and larger than I had anticipated (even though they give the dimensions). I need a Roman Cavalry Horse to carry it. IOW, it is not for backpacking. It is perfect for my purposes. Shipping was fast, got it in two days. The order page does not update as fast as the emails from UPS.

Now, I can enjoy cooking as my Roman ancestors did.
Reviewed by: Thomas

,
June 04, 2021