THIS SALE HAS ENDED
In the year of our Lord, 1119, a French knight by the name of Hugues de Payens created a monastic military order, calling it the Poor Fellow-Soldiers of Christ and the Temple of Solomon – later known simply as the Knights Templar. It became one of the wealthiest and powerful religious orders of the middle ages and remains till this day, a mysterious favorite of among scholars and fans of knighthood.
Museum Replicas is proud to celebrate this historic anniversary with a special 15% off sale on all of our Knights Templar range of products, including pre-order pieces! This sale is valid through 13th January 2019. So, don't wait for the 1,000th anniversary and place your order today! No Coupon Code required.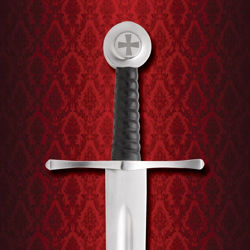 #501525
This historically researched sword is made of a full-tang, thick-edged, 1065 high carbon steel blade with peened construction using solid steel parts. Used as a one-handed or hand-and-a-half sword on stage. Leather-wrapped wood grip. Leather scabbard with metal accents included. Overall length 39-1/4 inches.